If you aren't aware of ChatGPT, it is essentially an AI-based tool that can leverage advanced natural language processing models to understand user inputs and generate high-quality content. As a result, it can be an invaluable resource for use in content creation, editing, summarizing, and even research.
However, the fact remains that ChatGPT does have its limitations. After all, it is not connected to the internet, which means that it cannot be relied upon to provide relevant and up-to-date information. It is for this reason that new ChatGPT extension tools like the ones from HIX.AI have sprung up.
These plugins can fill in the gaps and strengthen the weaknesses of ChatGPT, while also making it easier to access and make use of a wide variety of AI writing tools even as you write. After all, there's nothing more frustrating and confusing than having to keep opening multiple tabs to improve your content.
To this end, writers can get an extension of ChatGPT for Google docs, which can be helpful in brainstorming ideas, generating content, rewriting existing text, expanding on topics, etc. Even researchers can make use of these tools to access and verify information without much time and effort required.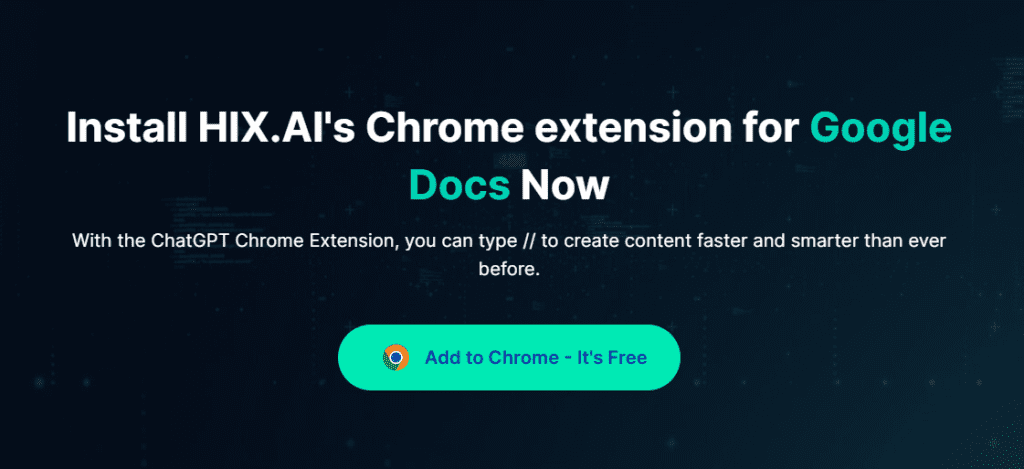 Is It Safe to Use a ChatGPT Chrome Extension?
While it is true that these AI-based plugins are designed to help make the content writing experience easier to manage, the problem is that third-party ChatGPT browser extensions can be a mixed bag. With so many options popping up from different providers, some can't be trusted, while others perform as expected.
For example, if you browse this page, you will discover that HIX.AI does well to provide a reliable ChatGPT Chrome extension tool that works as advertised. That being said, you must be able to identify the real from the fake, otherwise, you can end up installing a third-party plugin that is infected or compromised.
This means making sure that you conduct a fair amount of due diligence and research before installing anything, which means following the tips below:
Check the extension's publisher: One of the most important things is that you should check for the extension's publisher and verify that it is a reputable organization before downloading it.
Verify the extension's permissions: Another thing to check is what permissions the extension in question is asking for. If it asks for more than is reasonably necessary, then chances are that it may be a fake extension.
Watch out for pop-ups: You should also avoid downloading any extensions that are being promoted by excessive pop-ups or ads. In most cases, those types of plugins are not to be trusted, especially if they seem to be incessant or show up on multiple sites.
Install anti-malware software: It often helps to make sure that you also install anti-malware software. This is a great way to ensure that your computer can detect any malicious third-party extensions that can't be trusted and instantly prevent their installation.
Is Installing a ChatGPT Chrome Extension Worth It?
If you make sure to choose the right ChatGPT Chrome extension, then yes. After all, having to constantly move from one tab to another when trying to craft an article on Google Docs can be quite tedious. To this end, check out what you stand to gain by installing this extension in your browser today:
Streamline writing: With a ChatGPT plugin, you will be able to easily create high-quality emails, articles, social media posts, and even ad copy, as it will constantly provide you with useful suggestions on how to fix or enhance the text.
Get inspiration: AI-based tools are not inherently original, but they can often be the catalyst that you need to overcome creative blocks. For instance, you can ask the chat tool to provide you with new topic ideas, create an article outline, or even help you to expand on already written content.
Speeds up research: With the help of a ChatGPT Chrome extension, you will often be able to quickly get answers to complex queries, as the tool can retrieve and condense relevant information in seconds. This in turn spares you a lot of time having to conduct that research manually.
Language Translation: You can use the extension to quickly translate your written content between different languages. After all, these AI-powered tools can usually generate contextually accurate text, compared to traditional translators. This can be very helpful when crafting marketing copy for different audiences or even corresponding with international teams via email.
How Does the Installation Of a ChatGPT Chrome Extension Work?
The good thing about this plugin is that the installation process is fairly simple and the AI assistant can be downloaded at no charge. Plus, the tool is designed to seamlessly integrate with your browser, so the AI assistant will stay out of the way until you need it.
To get started, you only need to go to the HIX.AI website, head to the ChatGPT Chrome Extension and click on "Add To Chrome." You will be instantly redirected to the Chrome web store, where you can download the extension.
Within minutes, the tool will be downloaded and you can pin it to your extension tab for easy access. Alternatively, you can simply be activating the chat tool by pressing Ctrl + P (for Windows) or Command ⌘ + P (for Mac).
You can also open a website like Google Docs, Gmail, or Twitter, highlight any block of text and an intuitive lookup bar should pop up. From there, you can choose to use any of the 120+ writing tools available to edit, rewrite or improve the text on demand.
On a side note, something to always keep in mind when using the AI chat tool is that the prompts you provide will often play a huge role in the quality of the generated text. In other words, the more detailed, contextual, and comprehensible your prompts are, the more likely it will give you relevant answers and content suggestions that meet your needs.
You should also remember that the use of such AI tools is only meant to optimize your writing process and not overshadow your creative input. This means making sure that you invest your own time and effort in crafting the content rather than trying to let it do all the work for you.
Conclusion
All in all, it's clear that the use of ChatGPT Chrome extensions is revolutionizing the writing landscape. It makes the content creation process significantly easier and as a result, it will also boost your overall productivity levels. This is especially relevant if you happen to be a marketer, editor, student, or blog writer that constantly has to handle a lot of bulk content.
However, as powerful as they can be, it pays to be very picky about the plugins that you decide to install. As mentioned before, there are a lot of malicious providers out there, so make sure that you conduct a fair amount of research before downloading anything.
A good option to consider is HIX.AI, as beyond the fact that it is both reputable and reliable, it also contains over 120 writing tools that will be more than enough to fulfill all your writing needs.